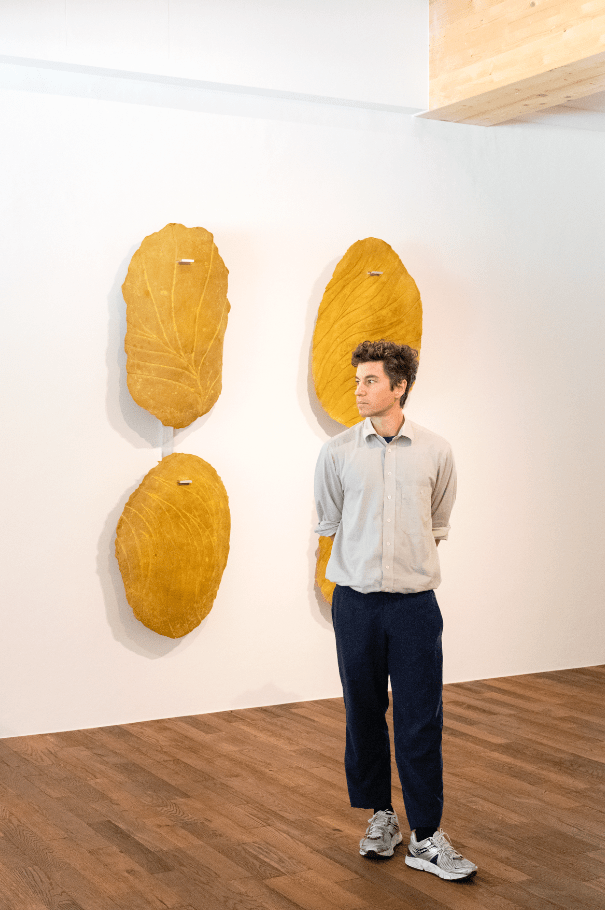 Gil Pellaton


In his multi sensory installations, Gil Pellaton (b.1982) challenges viewers to take their own perception as a guide, to move through the exhibition and to relate to the mysterious objects on their own. The artist obsessively immerses himself in worlds, he collects like a botanist, cooks and experiments like an alchemist and travels as an adventurer through coriander worlds.
Having obtained his Master's Degree in Visual Arts at the Art Institute at the FHNW Academy of Art and Design, the artist has received multiple awards, The Kiefer Hablitzel in 2010, the Anderfuhren Prize in 2011 the Aeschlimann Corti Prize this year. As well as this, he was nominated for the Swiss Art Awards in 2018.
The works presented at Tarmak22 by Gil Pellaton are speculative pieces made to be activated. They are props that can be used during a dance, a choreography or a new ritual. A utopian story celebrating the future.
The mirror makes it possible to see oneself through an archetypal structure of nature. A filter of nature that leads us to the metamorphosis. The turmeric reliefs also represent the archetypal structures of nature. Lines representing vegetal, mineral or liquid forms and logics. The mixture of turmeric mixed with glue, inspired by traditional techniques create a surprisingly solid and unknown material. It can be cast and then sanded. The sanding will reveal the intense yellow powder.